Dana Benigno
Cooking With the Seasons
Story by Dana Benigno
Photographs by Kaitlyn McQuaid
Something to Savor: Savory Root Vegetable Cobbler
I usually make pot pies in the winter topped with buttery puff pastry, but while making an apple crisp this past fall, I thought, "what would happen if one made a savory version of the an apple cobbler?"
The first step was to create a savory stew out of market vegetables. I started with a recipe for lamb stew and root vegetables with shiitake mushroom, but you can use any of your favorite vegetables to create the base. Next, I needed to figure out how to create the crumbly texture of the sweet crisp topping, but without using any sugar. It is a culinary challenge, because the sugar is what gives the topping its crunch, so omitting it would make it more like standard pot pie dough. For this recipe, I wanted to create the texture of the cobbler topping.
As I thought about the issue, I remembered a technique used in one of my favorite cookie recipes called "Lydia's Shortbread", from the cookbook Butter, Sugar, Flour by Gail Gand. In that recipe, shortbread cookie dough is frozen and then grated in layers into the pan to achieve a very light crispy texture. Freezing the pastry crust dough and grating it over the top of the stew was the answer!
The final recipe is included below. I added herbs and a little garlic powder to the crust to give it extra flavor. After making the dough, wrap it up and place it in the freezer for a couple of hours until it is very hard and simply grate it over the top of your dish and bake. The result was exactly what I wanted, a crispy, crumbly top—or a savory cobbler!
Tips: This is a great dish to make in advance. Simply make the stew and put it in a baking dish and cover until you are ready to bake. It can be done up to two days ahead. Freeze the pastry dough and grate over the stew just before baking.
Dana Benigno is a chef, gardener, local food advocate and a former Executive Director of Chicago's Green City Market. Her creativity and expertise blend like a good, savory cobbler. Dana developed this recipe especially for Edible Chicago.
WATCH BELOW: Dana Benigno create her savory root vegetable cobbler recipe from her own kitchen for Edible Chicago
Ann Flood
edible Travel
Destination: Food
Seeing the World and Eating Like a Local
Interview by Ann Flood
I recently caught up with Chicagoans and food travel experts Susan Gillato and Claudia Royston in between their global adventures. Both love to travel the world in search of cultures where local, fresh and seasonal foods are a way of life—much like the focus of our work in the pages of Edible Chicago. Susan has worked in the travel industry for more than 25 years embracing her passion for food and travel. Her business partner, Claudia is a marketing professional with 23 years of experience under her belt, sharing a love of travel and global cuisine. Together they formed a partnership where their common grounds meet—their love of local cuisine. Global Gourmands offers unique food tours all over the world. Coming up this spring: Ireland.
AF: When we think about Irish cuisine, we visualize (and taste) hearty, rustic and filling traditional faire such as Irish stew, a diet rich in potatoes, of course, and richer meats such as lamb and venison. How has Irish cuisine evolved in the past couple of decades without necessarily changing its integrity for tradition?
SG: The Irish have always had a close relationship with food, starting with family focused life around the hearth of the kitchen. People sang, cooked, told stories and ate around the hearth. But as the food movement progressed in Ireland, a real passion for sustainable, local and seasonal produce emerged. I would add, though that up until the last 30-40 years, that was the only way of life traditional Irish families knew and it connected them to the land.
As time went on, modern farming methods and requirements took hold and some in the older generation always kept an eye to traditional methods. Today's dynamic chefs are definitely interested in international cuisine, but traditional meals are still important—and better than ever.
AF: Agriculturally speaking, is there still a major focus on sourcing from local farms or artisans for dairy, meats, sea food and higher quality fresh ingredient cooking, and do a majority of farmers maintain organic or sustainable practices?
CR: The smaller farms are certainly sustainable. There is a limited landmass in Ireland so there is a universal understanding that they need to take care of it.
As for sustainable fishing, that really relates mostly to European Union regulations about quotas. There are problems with the laws that are being widely discussed. One of them is that if they catch haddock and the quota is already filled, they have to put the fish back in the ocean—by which time they are already dead.
The other side of sustainable fishing is farmed fish. Demand for food is greater than supply so the Irish realize that they need to embrace fish farming, but the way it's done is still evolving.
AF: The artisan craft beer movement in Ireland is taking off. Can you share more?
SG: It's grown rapidly in the last ten years. The natural or "slow food" movement kind of overflowed to beer—no pun intended! Traditionally, every town and city had its own beer (actually "porter" —a form of stout beer, a.k.a. Guinness). Artisan brewers were able to draw on the historical production of beer in their area—including the buildings as in the case for The Walled City Brewery in Derry, Northern Ireland.
In addition to the growth in microbreweries, hard cider and artisan whiskey are also experiencing a renaissance, but that's a longer story, best discussed over a pint.
AF: The Slow Food movement has originated in Italy to my understanding but there are deep roots also in Ireland's food movement. Can you share more about the history?
CR: After independence (from England) in 1922, Ireland struggled to find its feet financially for several decades, ­in farming especially. Farms that couldn't make it were bought out by larger farms, which were more efficient.
These larger farms were also gearing up for Ireland's entry into the EU. Ireland thought it would become the "farm of Europe" thereby bringing it out of the decades-long recession.
Many small farmers turned to selling their produce and meat locally, and this was especially true in the case of Ballymaloe, a small restaurant in a farmhouse, which was started by Myrtle Allen, a farmer's wife, in 1964. Myrtle had been the "cookery correspondent" for the Irish Farming Journal. The green movement was evolving, and there were at least two generations of people who remembered and appreciated more natural farming methods.
Her restaurant became wildly popular because everything was cooked with local and seasonal food—she decided on her evening menu based on what was delivered to her that day. One tour we are putting together, Culinary Treasures of the Emerald Isle, spends two days at Ballymaloe House Hotel. The itinerary includes dinner at the restaurant and a custom cooking class.
Long before the Slow Food movement took hold in Italy in 1986, Myrtle Allen was laying the groundwork for an Irish food renaissance from her farmhouse kitchen.
AF: Favorite memory that is food culture related based from a recent visit?
SG: I think I realized that Ireland was a food destination when I had smoked salmon on Irish soda bread with chive butter a few years ago. It completely wiped clean my original culinary experience in 1975 of a greasy parcel of fish and chips wrapped in newspaper.
AF: Any additional comments you'd like to include – that stand out to you about Ireland and their food culture.
CR: The Irish have always had a strong, emotional connection to the land, and equally their food—whether it's bacon and cabbage, a fresh loaf of bread or a poteen (traditional Irish moonshine made from potatoes). One chef told us it's a relationship similar to how Native American Indians feel about the land. The enduring philosophy of seasonal, sustainable and local, which Myrtle Allan brought to life in the 1960s, is still at the forefront of Slow Food.
The other interesting thing is how diverse and sophisticated its cuisine has become, in large part as a result of chefs returning from internships overseas. And, as more and more Irish began to travel, expectations of food have also gone up exponentially, but the love of traditional food continues.
And why not? They have some of the best farmland in the world, which is fed by the rain and kept temperate by the mild jet stream, and, they have the beautiful, wild Atlantic coast with some of the best fish in the world.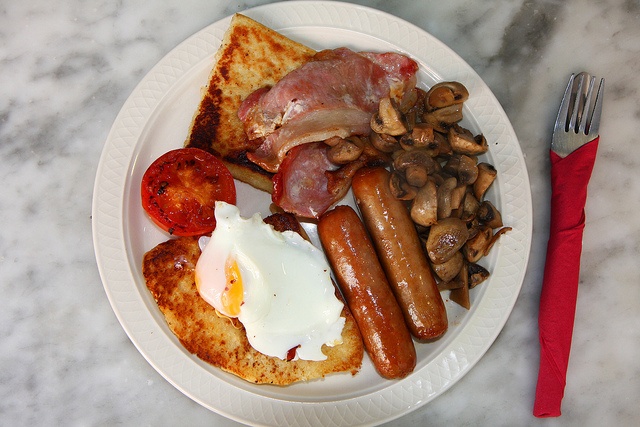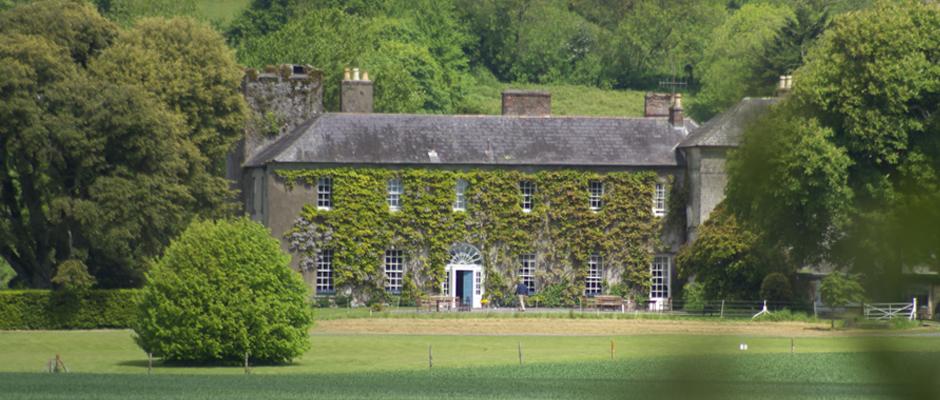 Amelia Levin
The Lake Effect:
Liquid Gold with Honey Butter Fried Chicken
It may seem unconventional to eat fried chicken without the bones. But at Honey Butter Fried Chicken, there's no better way, and the regularly packed house with lines out the door proves that. In fact, Chef/Owners Christine Cikowski and Josh Kulp spent years researching farms and testing different chicken-cooking methods using the Amish chicken they selected before opening Honey Butter in 2013. Critics be darned—this fried version is finger-licking good.
Cikowski and Kulp had a unique challenge as operators of their hybrid quick-service restaurant in Avondale: Source antibiotic-free, humanely raised poultry from a sustainable farm or farms, while meeting extremely high volumes: Honey Butter runs through 40 pounds a week—that's about 14 cases, or 1,300 pieces of chicken, daily.
After countless tests, they landed on Miller Poultry, a Northern Indiana-based supplier of antibiotic-free and organic chicken raised on Amish farms throughout that region and in parts of Southwest Michigan. Using a network of Midwestern distributors, Miller Produce has been able to thoroughly supply the Chicago market, sending fresh, whole chickens to Honey Butter through Lex Meat about every other day.
Family-owned since 1942, Miller Poultry sources chickens from Amish families who raise them in smaller flocks. They are "cage-free," meaning they are free to roam within the chicken house and have access to vegetarian feed, natural light and ventilation, rather than being "pastured" outdoors, where flocks can be challenged by cold Midwestern weather, disease and potential airborne contaminants. The chickens are both raised and processed according to Temple Grandin's humane practices and procedures.
"Ideally we would source pasture-raised but these types of farms have very limited supply so it was a tradeoff," says Kulp. "For us, the more sustainable option as a quick-service fried chicken restaurant was choosing a high-quality, superior, cage-free chicken so we could bring our fried chicken to as many people as possible. We considered a variety of factors, but we didn't want to consider any product we didn't feel was ethically and humanely produced."
Milo and Annas Miller originally raised turkeys on Pine Manor Farms, the original home of Miller Poultry and a former dairy farm. It wasn't until 1974 that the family would begin began raising broiler chickens, and four years later, hatching chickens themselves. By 1992 Pine Manor was processing 16,000 chickens per week. After several expansions throughout the year, Miller Poultry, currently owned by the next generation, Galen Miller and his family, processes 35,000 chickens per day by working with a network of small farms. The family also maintains strong ties to the community and remains active in local charities.
For two and a half years before opening Honey Butter, Kendall grads Cikowski and Kulp scoured cookbooks and old recipes, then went through rounds of testing to determine the juiciest, tastiest way to cook chicken. They tried brining, curing and no brine. They tried bone-in, boneless and a mixture of each. Ultimately they decided on the brined and boneless fried version. A serving portion includes a boneless breast and thigh, and bone-in leg.
"When you have a big bone in the middle of chicken thigh, frying makes the outside of the chicken cook way faster than the inside and this can dry out the meat and lead to overcooking," says Kulp. "By frying at low temperatures, we make sure the chicken gets cooked in 10 minutes and skin renders and crisps up perfectly. We wanted to keep the chicken juicy by not cooking at too high temperatures or too fast."
Fried chicken purists might balk at the boneless pieces, but Honey Butter's technical cooking approach has created a wave of cult followers.
"We struggled with the boneless approach and asked ourselves if people would like it—it's not something we took lightly," says Cikowski. "But we approached the process from a cook's standpoint and tried to figure out the best way to make the chicken taste great."
A team of three prep cooks come in at 7am to "divide and conquer" the chicken butchering each day, says Kulp. Using an assembly-line operation, one cook takes the breast off, the next cook takes the legs off and the third cook de-bones the thigh.
The boneless breast and thigh and bone-in legs for the main dish at Honey Butter are immediately brined for at least 18 hours in a mixture of water, salt, sugar, citrus and aromatics, while extra chicken tenders (boneless thigh pieces) are used for an array of seven sandwiches as well as chicken and grits. The huge walk-in cooler helps make room for the endless brining containers.
After brining, the chicken gets double-dipped in buttermilk and coated in a blend of smoked paprika, garlic and onion powders and other freshly ground spices along with all-purpose flour an a touch of rice flour, which adds a little extra crunch when fried in one of the restaurant's three 90-pound fryers.
Butchering in-house not only ensures freshness, it helps Cikowski and Kulp make sure they use every part of the animal—one of their sustainable missions. Schmaltz—or chicken fat—from rendered skin is used for making gravy and flavoring mashed potatoes. And those leftover chicken bones? They become the basis for what Kulp calls "liquid gold": a flavorful chicken stock used for potpies, gumbo and more. Leftover wings are roasted in the oven, flash-fried and tossed in sweet chili and honey Buffalo sauce for a unique spin on the classic.
Nearly a decade ago, little would Kulp and Cikowski realize that their popular underground dinner club, Sunday Dinner, would later serve as the launching pad for HBFC and the perfect test market for their fried chicken recipe. The signature honey butter came later, though.
"We developed honey butter for our biscuits one day, but then spread it on the chicken and the rest was history," says Cikowski.
Paired with crispy-soft Johnnycakes, green curry-spiked creamed corn and mac n' cheese—Honey Butter Fried Chicken has become a thoroughly modern comfort food oasis.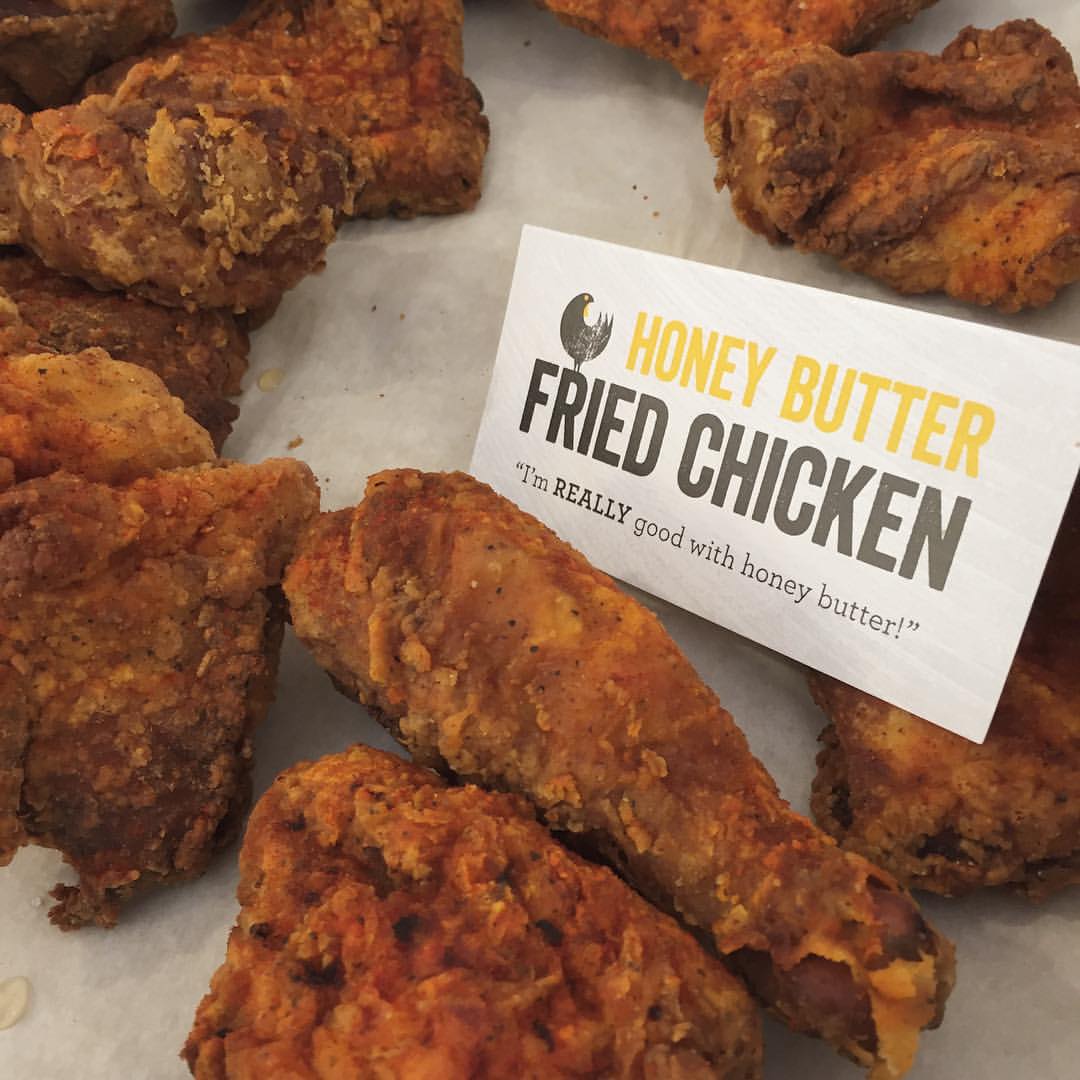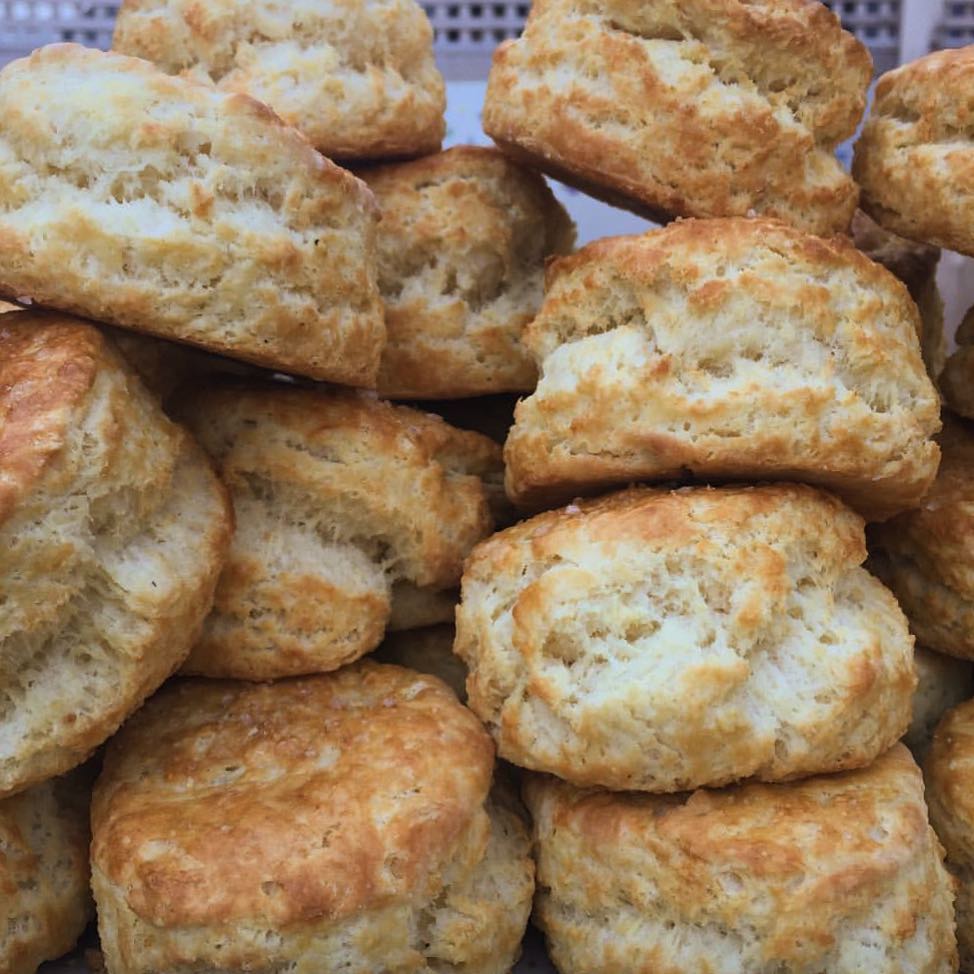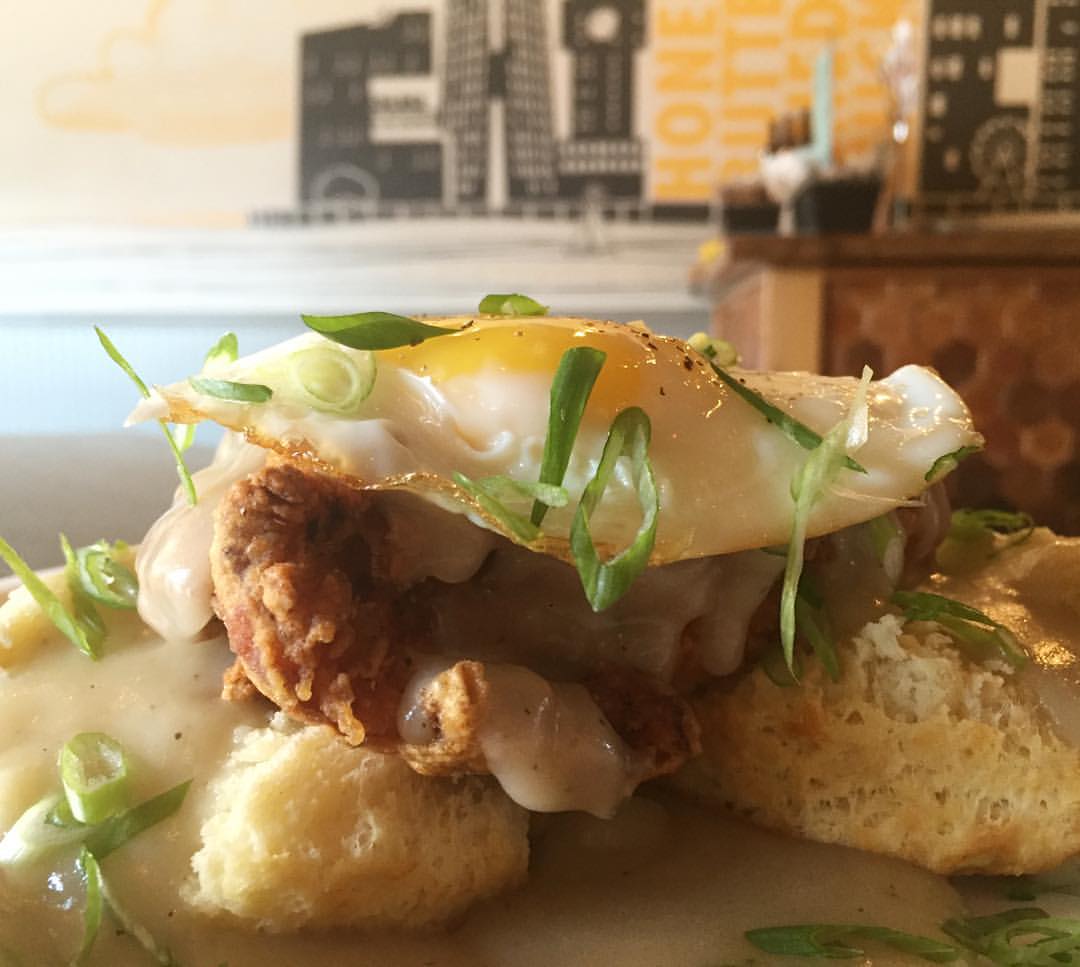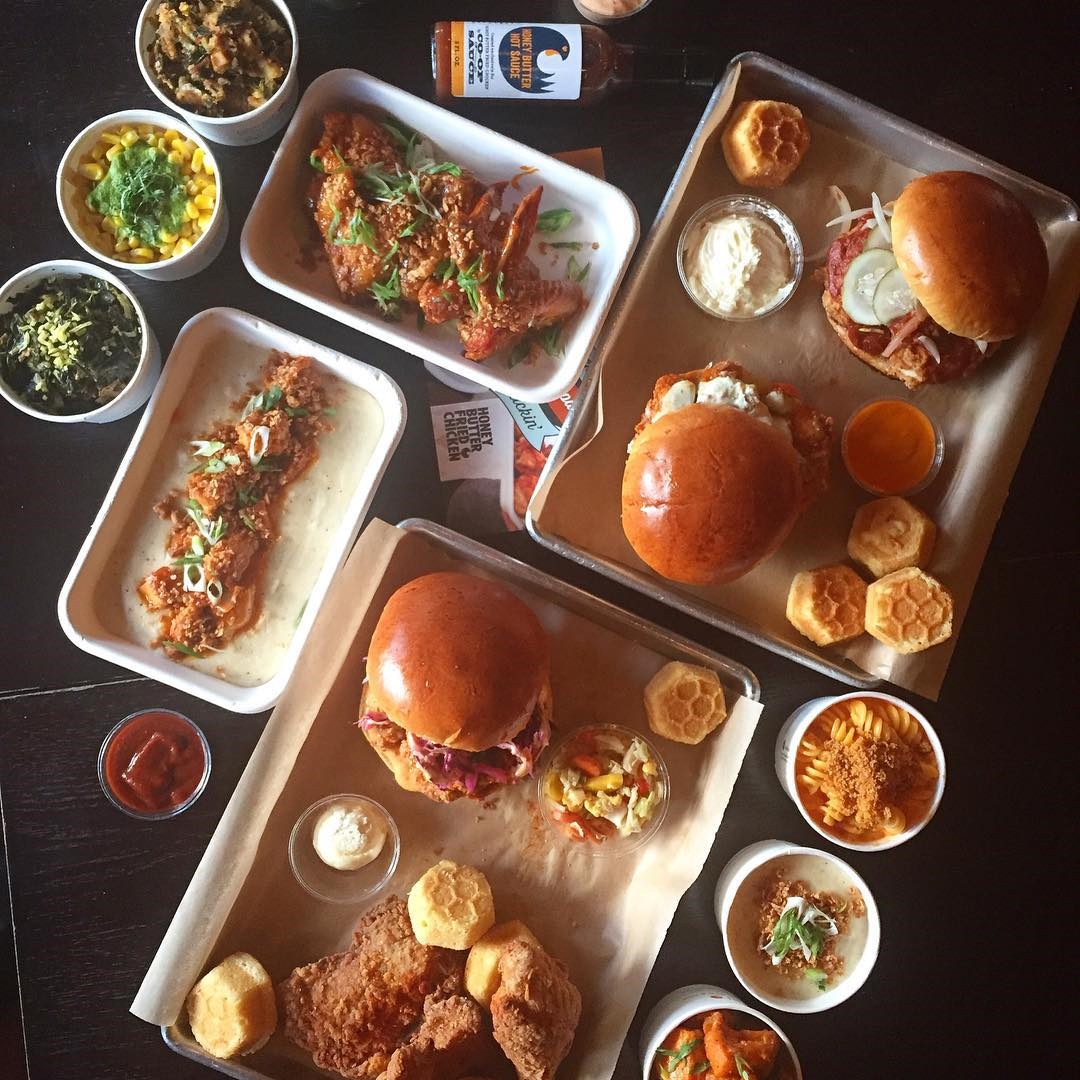 Becky Liscum
LIQUID ASSETS
Story by Becky Liscum
North Shore Distillery Taps Into Our Greatest Liquid Asset
In an early quest to perfect their hand crafted batches of gin and vodka, Derek and Sonja Kassebaum of North Shore Distillery in Lake Bluff imposed on family and friends to do a blind taste test of their spirits using different water sources. "Lake Michigan won, hands down," Derek boasts.
"We tried distilled water, spring water…the commercial water was the worst," he says. So they turned, quite literally, to the North Shore and opened the tap. "I figured I'd have to distill the lake water
to make it palatable in a batch," Derek explains, but when he realized it was great straight from the lake, he was floored. "That was one of the shockers." Lake Michigan water, in its most natural state, produced the best gin and vodka. "There's just something about the mineral content of the water which softens the taste of the alcohol," he says the water's unique contribution to the distilling process, along with the right blend of ingredients, earned rewards as North Shore Distillery Gin No. 6 won rave reviews and critical awards in 2007 and 2008.
"Since water is roughly 55% of each bottle of gin and 60% of each bottle of vodka, its flavor and quality is essential," the couple says. "For each batch of gin, we add the hand-prepared botanicals and water to the still, along with our very clean, high-proof spirit. We heat the still gently, extracting the rich, complex flavors from the botanicals into the spirit. After distillation, we then add more water to bring the spirit back down to a drinkable proof."
In a busy month, the 60-gallon still is fired up every day, producing as much as two or three batches in a single day. It's not only the smooth tasting run of the mill (but far from average) vodka or gin they produce; Lake Michigan water, Midwest grains and organic and wild harvested botanicals are the basis for other imaginative creations, which sell out in a flash.
As a boutique distillery, North Shore is known for its amazing limited releases of infused gins. 2007's RhugingerNo. 6 was infused with rhubarb (from just up the road, in Woodstock, Illinois) and a hint of ginger. Other specialties featured exotic infusions: No. 6 Mingled with Dates and No. 6 Mingled with Ceylon Tea, both in 2006 and the sensational Summer 2008 Alphonso Mango No. 11 gin.
"For (this) single-batch limited release, we purchased rare (and expensive) Alphonso mangoes from India at Patel Brothers on Devon," says Sonja, explaining that the sweet flavor of this fruit gave the spirit a very distinctive, rich taste. "The base of the limited release was Distiller's Gin No. 11, which is made with organic juniper berries, fresh lemon peel, cardamom, Ceylon cinnamon, coriander, cubeb berry, anise seed, angelica root and morris root, in different proportions than our Distiller's Gin No. 6."
"We get a lot from the Spice House," Sonja adds, "and we use as much wild harvested and organic as we can." Getting the right blend means a lot of trial and error.
A chemist by training, Derek approaches the process with a scientific eye blended with an artisan's palate. "I taste every batch," he says, then opens an unassuming cabinet in the spacious warehouse turned distillery and shows off a collection of past work: small hand marked bottles containing samples from every batch ever made. "As you can see, we do a lot of experimenting. Real 'chemies' come in here and expect to see charts and experiments set up (like a laboratory). No, that's not how I work. I go by taste, if it tastes good, I go with it."
"It's almost like cooking when you're a chef putting together a recipe," Sonja adds.
With the freshest of all ingredients coming right from the north shore, it certainly turns the water of Lake Michigan into a real local Liquid Asset.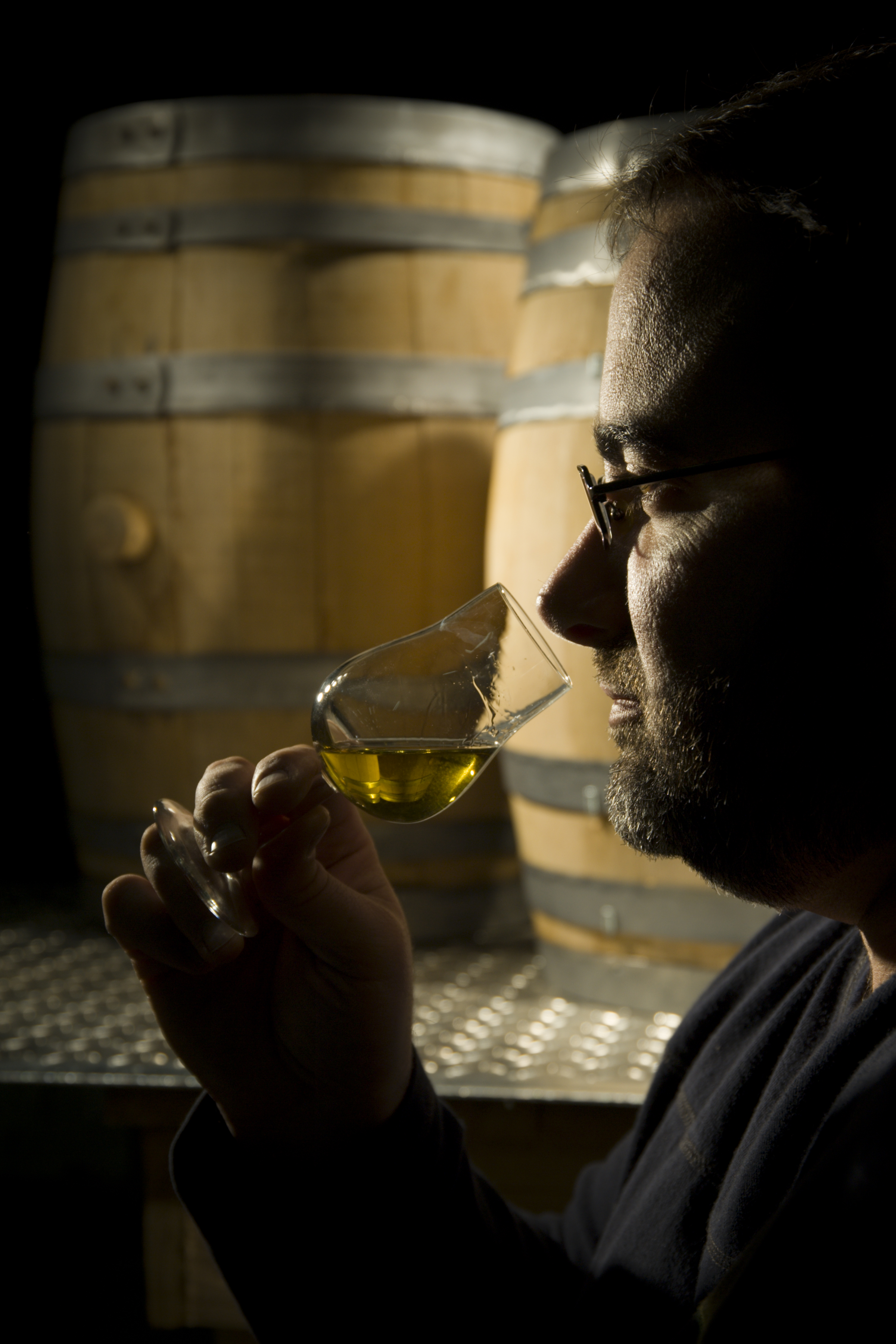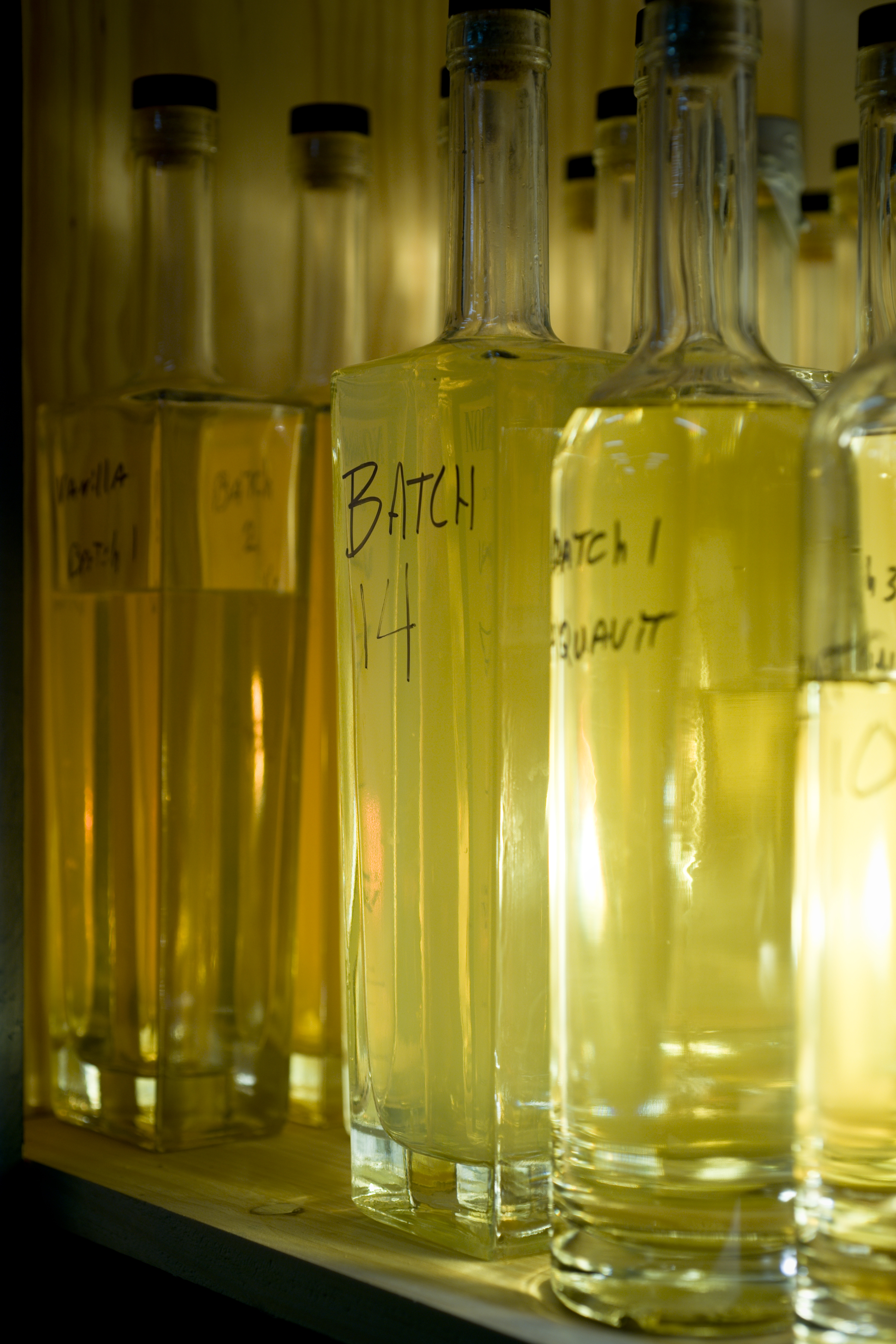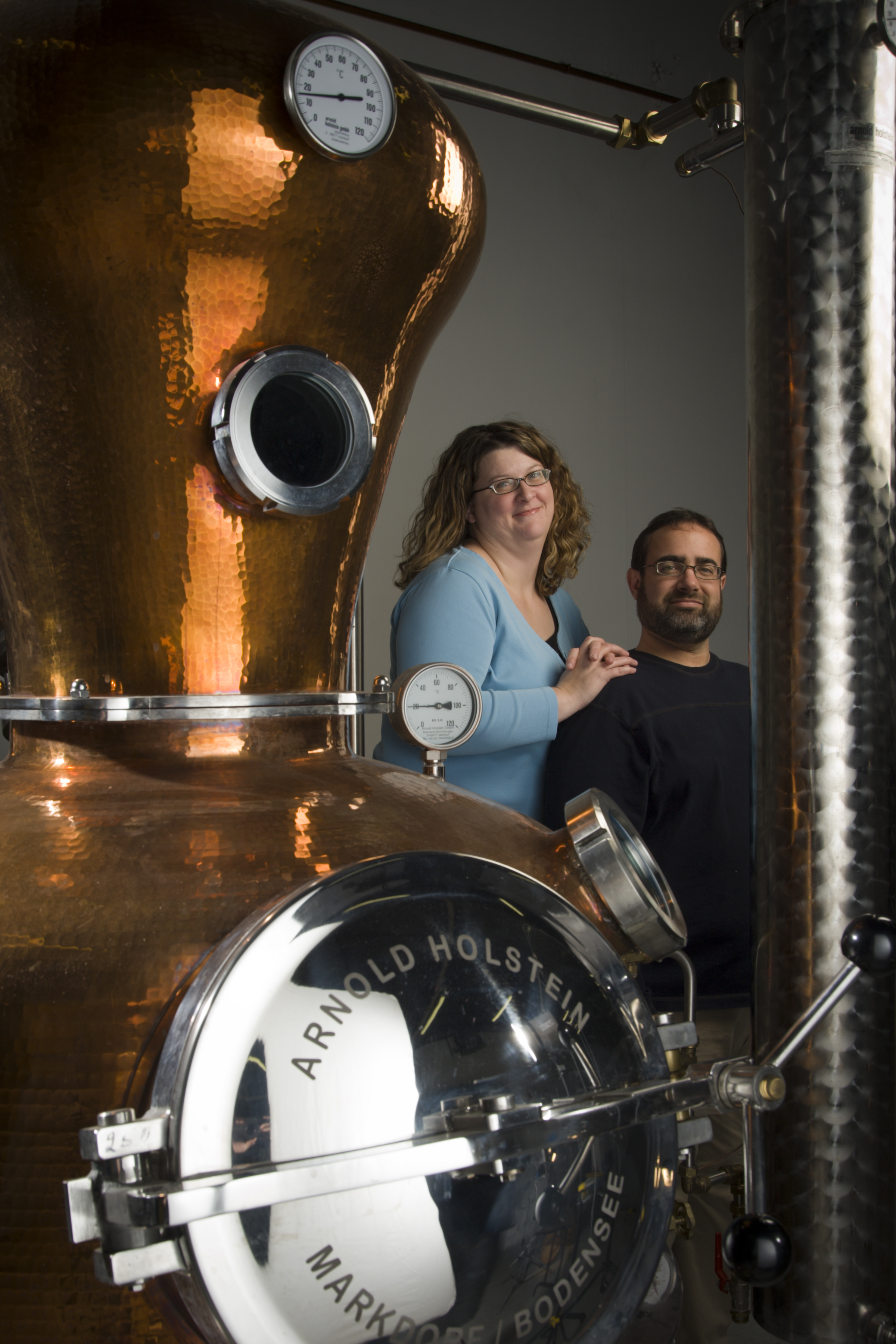 Anne Spiselman
Michael S. Thompson knows a thing or two about bees.
The co-founder of the Chicago Honey Co-op in West Town has been a beekeeper for more than half a century, ever since he asked his parents for a beehive as a 12-year-old growing up in Wichita, Kansas. His father and brother soon caught the bug, and his hobby became a small family sideline selling honey to friends and relatives.
Thompson moved to Chicago in 1968 and resumed keeping honeybees half-a-dozen years later. Now 67, he's responsible for roughly 65 hives within the city limits and continues to provide inspiration for others through the co-op's programs, which range from producing honey and honey-based skin-care products to offering classes on beekeeping and beeswax-candle making.
He's also become an expert on urban beekeeping and says it has been growing in popularity in the last two decades. Perhaps the only thing neither he nor anyone else knows is how many beekeepers or hives there are in Chicago. Beekeepers are required to register with the Illinois Department of Agriculture, but the department doesn't break down the information by city. The state had 2,766 registered beekeepers in 2014, a number that had increased annually from 1,107 in 2002, though there actually were more in 1989 (2,783) and 1988 (2,966). As of July 2014, Cook County had 321 apiaries with 1,196 colonies.
The general buzz suggests that beekeeping is booming both as a hobby and as a business. The Chicago Beekeeping Meetup Group, an online community started in 2007, lists close to 700 members. Wild Blossom Meadery & Winery, on the South Side for 15 years, maintains hives in several places, among them the roof of the Chicago Marriott Downtown Magnificent Mile, to produce honey for its beverages. Like the Chicago Honey Co-op, Sweet Beginnings, a wholly owned subsidiary of the North Lawndale Employment Network, sells raw honey and honey-infused body-care products from its own hives and provides job opportunities for area residents facing barriers to employment. The NLEN also partnered with the Chicago Department of Aviation to set up and monitor the world's largest airport apiary at O'Hare. It began in 2011 with 28 hives and now has 75, home to more than a million bees that make thousands of pounds of honey for Sweet Beginnings' beelineTM line.
Thompson oversees hives for the city in four locations, all of them on rooftops. Two are atop City Hall, four at the Chicago Cultural Center, two at Gallery 37 and two at the Lurie Garden in Millennium Park. This is in addition to the co-op's hives, which are spread out among Testa Produce in the Back of the Yards neighborhood, the green roof of Christy Webber Landscapes on the West Side and the Precious Blood Center community garden on the South Side. There's also a hive at preSERVE garden, a partnership between the co-op, the North Lawndale Greening Committee, NeighborSpace and Slow Food Chicago at 12th Place and Central Park Ave. Fruit trees and strawberries grow on the single 25- by 60-foot lot, along with peas, peppers, sweet potatoes, tomatoes, greens, garlic and much more, all for co-op members and the neighbors.
Thompson attributes the interest in bees, which along with other insects are credited with pollinating more than 30% of the world's crops, to people's increasing awareness of the environment and related issues including healthy food. He also points out that urban beekeeping differs from that in rural areas—and has definite advantages.
The first is the ready availability of nectar and pollen sources. "Chicago offers a vast variety and quantity of plants, so food is never a problem, and the honeybees are very healthy," Thompson says. "Plants left over from the city's farming days include all seven types of clover grown in the upper Midwest, and the city planted millions of linden (basswood) and other shade trees that beekeepers would give anything to be close to." He adds that honeybees are very particular and seek out the nectar with the most sugar within two miles of the hive, generally avoiding anything toxic. The result is extremely high-quality honey.
Shorter travel times make tending the hives less of a chore for urban beekeepers, who often can just ride a bike or take the train to different sites rather than driving 50 or 100 miles. Thompson says he also finds the network of volunteers and media attention to be big pluses. There's even an urban version of an ancient rural tradition. "When a beekeeper found a field of alfalfa, he might ask the farmer if he could put a hive on it and harvest the honey," he explains. "The same kind of handshake agreement has prevailed here, and in some cases the companies have contacted me."
Thompson admits that it's harder to produce specific varietal honeys—such as alfalfa, blueberry or buckwheat—in the city, and that the population density makes fearful neighbors a potential problem, even though honeybees are less prone to stinging than some species (of which there are more than 20,000). On the other hand, he says that vandalism like the recent theft of three hives in McKinley Park is a rarity here but a longtime issue in rural areas, where some people brand their hives. (Honeybees are considered livestock.) As for city regulations, he finds the new rules generous and officials consistently helpful.
The City Hall hives are doing well, according to Thompson. He checks them—and the others—weekly during the summer, and in mid-May each had 20,000 to 30,000 bees. By June and July, the per-hive population swells to 50,000 to 60,000, all born on site, and with the honey, the hives weigh 200–300 pounds each, so another co-op member, a volunteer or an intern helps. Thompson estimates that each hive produces 40 to 50 pounds of surplus honey over and above what the bees need to sustain themselves during the winter.
"Honeybees have adapted to extreme cold, so in winter they form a cluster on the comb and move their wings to generate heat," he says. "Unless it's warm enough for them to be flying, we don't examine them in the winter, because we don't want to disturb them."
However, they do lose some hives in cold weather. Thompson says he started noticing about 15 years ago that more bees seemed to be dying more often. He doesn't know if this is related to the infamous and mysterious "colony collapse syndrome," which has been blamed on parasites, pesticides, poor nutrition and a combination of all three, but one project he and the co-op have been working on the last few years is becoming self-sustaining. Initially, they used Italian and Russian bees bought from suppliers who raised them in Louisiana and Georgia, but now their own queens lay 1,000 to 2,000 eggs a day, and Thompson and an intern have been learning the delicate process of queen grafting, so they can replace their own hives when they die.
Co-founded in 2004 by Tim Brown and Stephanie Arnett with Thompson, the Chicago Honey Co-op has about 30 members, though that number fluctuates as does the number of beehives. Thompson cares deeply about prison reform, and many of the three to four employees per season were previously incarcerated. Typically two to four interns also are on hand. The West Town headquarters doesn't have a retail store, nor is the honey served at restaurants (with a few exceptions), but the co-op's raw honey, honey mustard, bath and body products and/or beeswax candles are available at the Green City Market and Logan Square Farmers Market, as well as at stores including the Blue Door Farm Stand, Green Home Experts, Provenance Food and Wine and Publican Quality Meats. They're also at the Jane Addams Hull House Museum, where some one-day classes are given; others are hands-on at the Christy Webber Landscapes apiary.
The co-op is always testing things and working on new projects, and Thompson says one of his dreams is to make mead, the alcoholic honey drink the Vikings loved, on a larger scale. He's been offering it in the co-op's CSA boxes for about five years but can't really sell it without a license.
When asked if he thinks urban beekeeping has peaked, Thompson—who used to be a landscape gardener—likens it to gardening, which just keeps growing exponentially. He also says his greatest reward after 12 years at Chicago's farmers markets is being part of the thriving local scene and the network that has formed here.
"We stay close to the farmers, chefs, educators and artists who struggle to lead the urban food movement, and that's the best gift imaginable," he concludes.
For more information: chicagohoneycoop.com.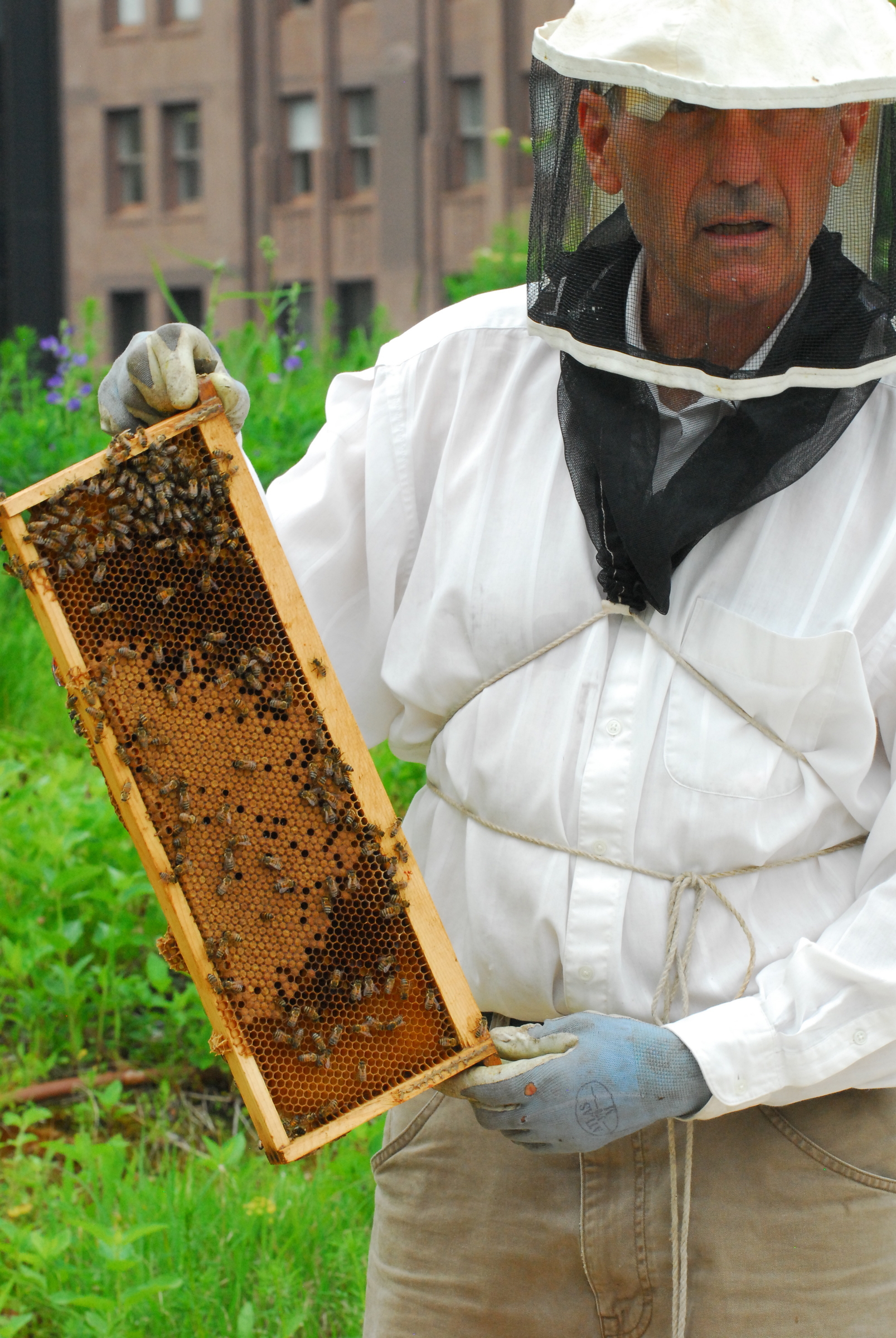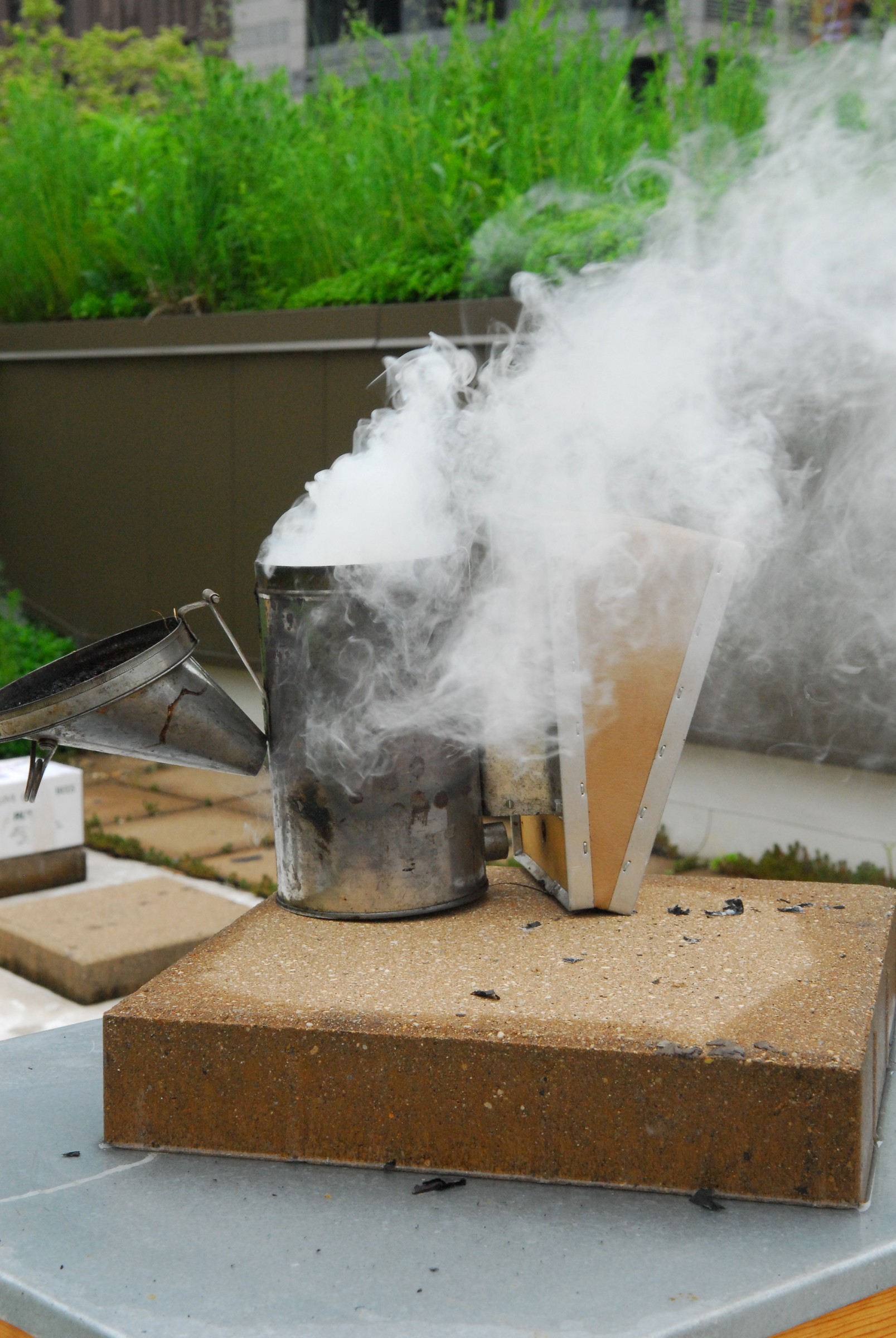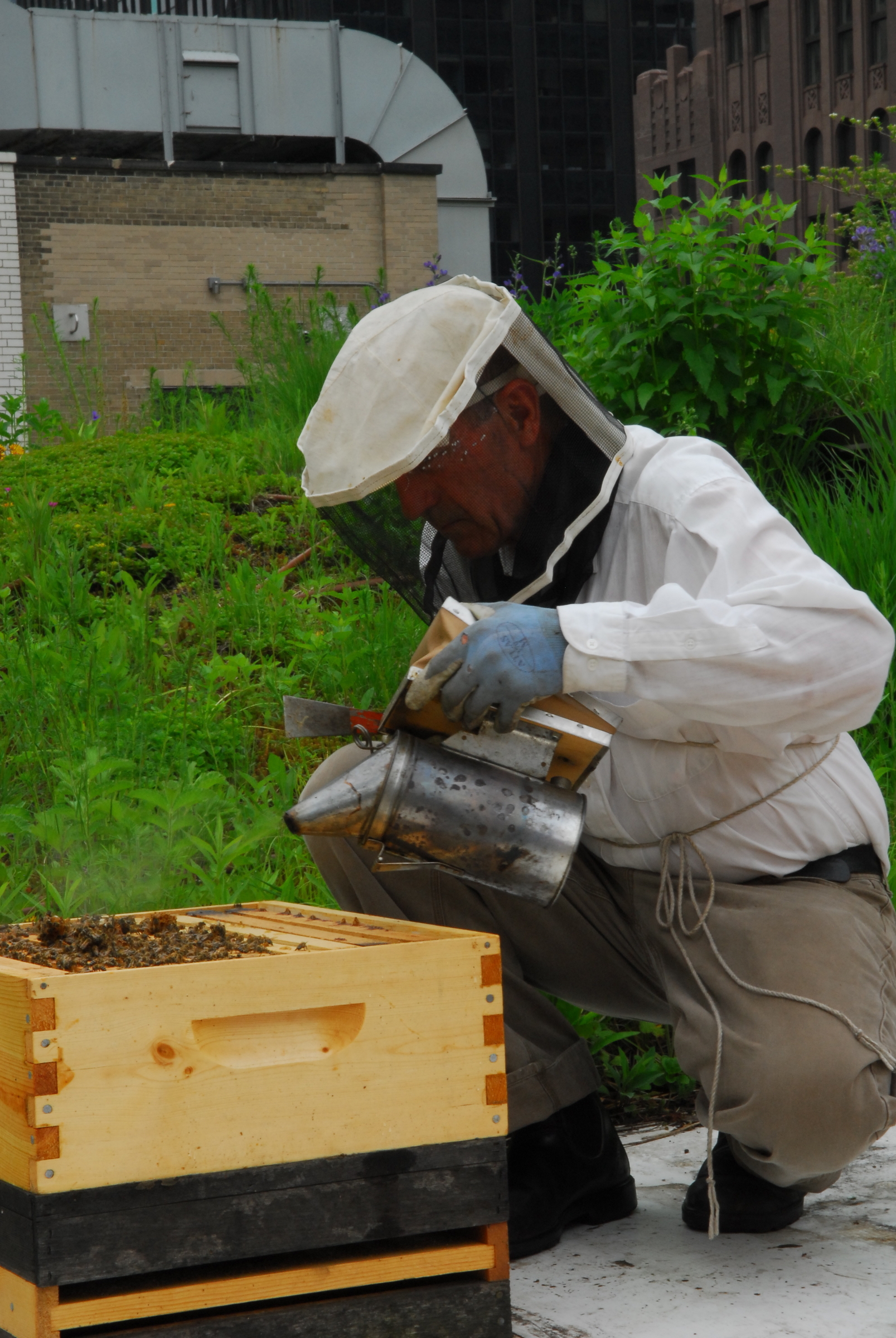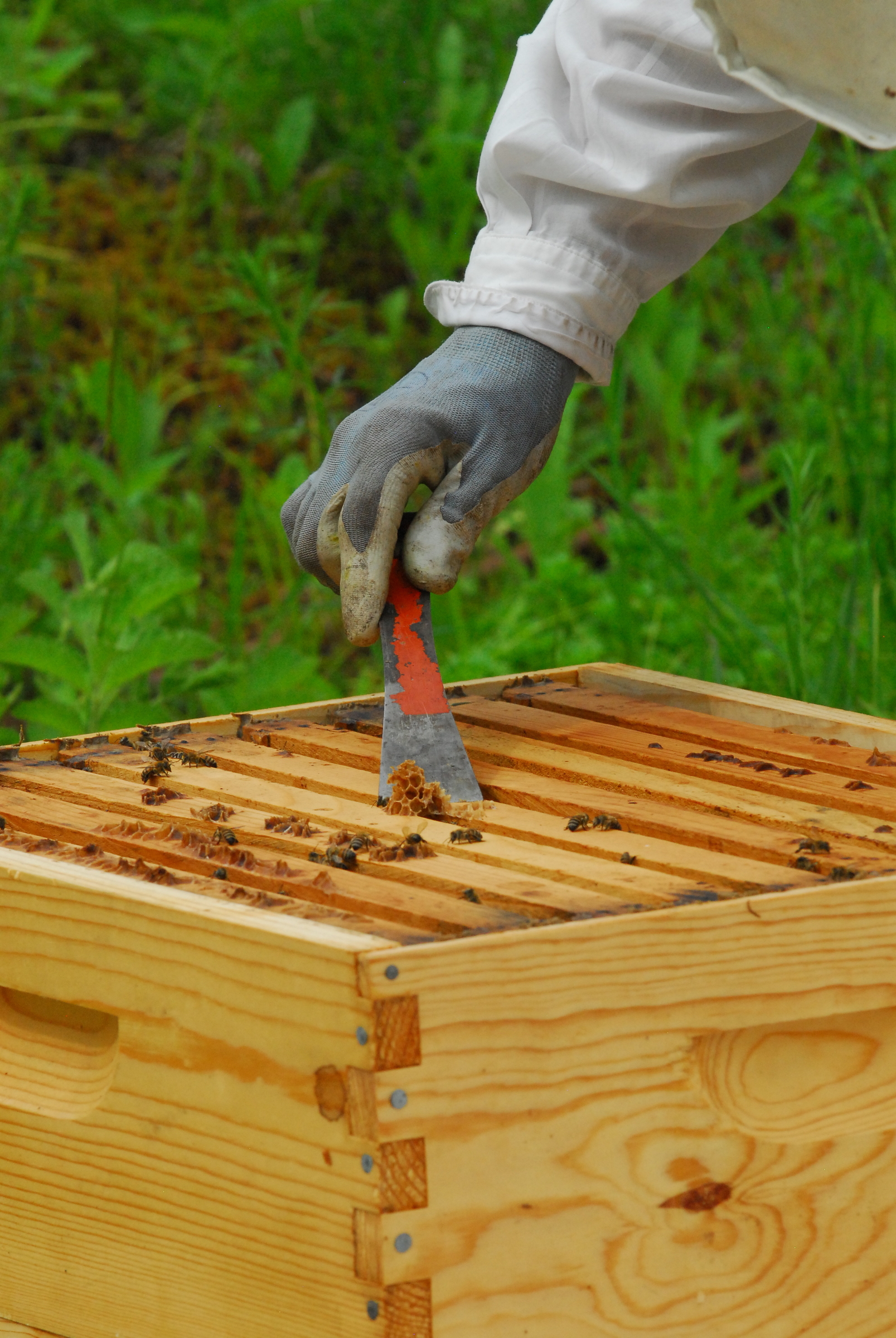 Bill Shores
It's most likely the most photographed and videotaped backyard edible garden in Chicago, seen around the world.
The urban organic growing space outside the back door of the home of Chef Rick Bayless serves many purposes. It produces hundreds of pounds of produce for his restaurants; serves as a backdrop for scenes in his popular PBS television show "Mexico—One Plate at a Time"; is a model for intensive urban agriculture and is a vibrant setting for the Bayless outdoor kitchen.
"This garden can teach a lot of people," says Master Gardener Bill Shores, manager of the Rick Bayless Organic Garden. The main garden commands two and a half city lots. Shores oversees the urban farm as well as indoor systems and a rooftop garden above the Bayless restaurant, XOCO.
"All of the growing systems we use are based on small-scale spaces so are very translatable to the home environment," he says.
Container planters are his "go to" choice for urbanites. "They have so many advantages, including portability." He and his crew will plant about 100 containers this season, many will be filled with perennial herbs, which have overwintered in the ground.
A second-story 150-square-foot greenhouse allows year-round production. Microgreens as well as seedlings for the outdoor garden are grown all year indoors. "Typically, in mid-April our salad green production is starting to really get going. The days are long and the greens are under protective fabric row covers [like mini greenhouses but insulated], keeping them growing steadily."
Shores also maintains a 75-square-foot indoor light garden at the Bayless residence, where microgreens are produced year round. To get ready for spring, he starts seeds under grow lights in his basement in late winter, then brings thousands of them to the Bayless garden for transplants. Not everyone has the time or space to start crops indoors. Many people opt for seedlings at the nursery but he encourages home gardeners to try their hand at growing from seed once the soil warms up.
"Root crops, beans and most salad greens are best planted from seed. Lettuce will take a bit longer but will grow very well from seed."
In the Bucktown backyard they also practice intensive gardening in raised beds, which encompass 1,000 square feet. The method is different from row-crop gardening where there is space in between plants. At the height of production in the Bayless salad beds you can't see any bare ground. Succession planting is employed and workers sow seeds from 20 varieties every four weeks, creating a vibrant carpet of shades of green and crimson.
Shores says the challenge with this type of farming is maintaining the fertility of the soil. Every bed is amended with 100 pounds of compost and monitored throughout the growing season as the crops deplete the soil's nutrients. In between each succession another 10 to 15 pounds of compost will be added.
The average yearly crop yield is astounding: 760 pounds of greens, 628 pounds of tomatoes, 223 pounds of herbs, 150 pounds of butternut squash. "We custom-grow greens to exact specifications in terms of size and texture. We produce unusual herbs for the restaurant. We produce and send in fresh microgreens, mint and dwarf basil plants in pots or containers to be harvested right in the restaurant."
And then there are the edible flowers from the garden, "produced by the thousands for the chefs."
When Shores started at the Bayless garden 10 years ago, he estimates he was putting in 50 hours a week of work. Over time he added workers and now has four part-time employees, two interns and two volunteers.
His goal, he says, is to have the garden "camera-ready 12 months of the year." While not everyone can cook like Rick Bayless, Shores believes they can still have a garden like his.
"I believe any garden should look good, it should be functional as well as a visually pleasing space for entertaining."
For information on tours of the Rick Bayless Organic Garden: urbanedible.net.
Anthony Todd
Unchained: T. J. Callahan Thinks Big—and Thinks Local
T. J. Callahan has turned the original Farmhouse restaurant into an expanding force in Chicago's local food scene. One successful farm-to-table restaurant in River North led to another, larger outpost in Evanston. A third spot, Farmbar, is opening this fall. All of them share a fierce commitment to local food, sourced from within the four states that Farmhouse considers its local "zone": Illinois, Indiana, Wisconsin and Michigan. Callahan also owns a farm that supplies the restaurant and Farmhouse grows its own greens and herbs in a rooftop garden.
But Callahan didn't grow up a farmer, a wide-eyed idealist or an activist against industrial agriculture. He grew up in the restaurant industry and his conversion to local food came late in life. But he's definitely made up for lost time.
"I wasn't a farm kid, but I grew up around farms in New England," Callahan remembers. "I once found a cow in my garage!" While he might not have been a young farmer working the fields, he did start in the restaurant industry at age 14, working at a country club as a dishwasher. That was the beginning of a career that would last a lifetime.
"I've really never had a job that wasn't in the restaurant business. I've been everything you can in this business." Dishwasher, line cook, host, waiter, manager —Callahan moved from job to job before moving to Chicago, where he got into restaurant consulting. He eventually got an MBA from the University of Chicago and spent years working on large restaurant chains that are the exact opposite of Farmhouse. He would be brought in to manage a failing group of 90 fast-casual steakhouses, or turn around a group of 17 Irish pubs.
"All of the food came in frozen and was microwaved or fried—nothing like what we do now."
But deep down, he always wanted to open his own place. Along with his partner, Ferdia Doherty, whom he met during that stint managing Irish pubs, Callahan decided to open a craft beer spot. Farmhouse was never supposed to be a haven for local food—it was originally supposed to be all about the beer.
"We thought we'd basically be the Maproom with good food, with beer geeks three deep at the bar," Callahan remembers. Farmhouse opened in River North in 2011.
"About three months in, we looked at ourselves, and our guests had explained to us what Farmhouse really was: It was a farm-to-table restaurant with a great beer program, not a beer bar with food," says Callahan. "So, we decided to go with that! We doubled down on the food and we continue to."
Farmhouse has developed into a modern gastropub, a place where diners can get a great burger, a plate of delicious fried cheese curds (an ever-popular staple) and a perfect salad made with greens picked about 40 feet away. They have amassed a huge beer list, a comprehensive local spirits collection and antique Beerador refrigerators that dominate the bar at both the Chicago and Evanston locations.
Callahan arrived at the conclusion that local food was the choice for him because the more he learned, the more he realized that the way food was sourced in the restaurant world didn't make sense to him.
"When you start doing research about these things, you start realizing how bizarre the supply chain that gets the food to us actually is." He recalls a recent moment on his farm, which is in the heart of Michigan apple country, seeing a wooden apple crate being used for scrap wood. The apple crate formerly contained Fuji apples shipped from New Zealand. "How bizarre is that? There's something viscerally wrong with that." Out with the faraway fruit, the frozen and the microwaved; in with the fresh and local.
"Food with integrity always had a compelling hold on my imagination." That's one of the reasons Farmhouse has such a deep commitment to local sourcing. While they aren't 100% local (at one point last winter, they had bought out the entire local supply of Brussels sprouts and rather than taking them off the menu when those ran out, they sourced them from elsewhere), the meat and fish are just about always local and 100% hormone- and antibiotic-free.
As it is for many farmers, the "organic" label is less important to Callahan. "I want it to be sustainable, but we've been to these farms, we've seen the cows and chickens and how they're raised," explains Callahan. "I can get 'organic' product that was grown three weeks ago in the Central Valley of California, or I can get something raised locally and sustainably, but picked three days ago." The fresher, local option is usually what's on the table at Farmhouse.
Callahan has fully embraced the local food lifestyle. He owns Brown Dog Farm in Southwestern Michigan and is working on turning it into a source for the restaurant. He's not a full-time farmer and he isn't interested in labor-intensive endeavors like cattle or pigs. "We've got great farmers in Chicago who are much better at growing arugula than I will ever be," laughs Callahan. "But I want to do things that have an emotional tie to Farmhouse."
For him, that's mostly heirloom fruits—he has more than 100 apple trees and hundreds of berry bushes and vines. He's also developed a love for traditionally crafted cider, working with local farmers growing cider apples to make his own varieties just for Farmhouse.
Farmbar, the latest addition to the group, will be more like that original concept of a craft beer bar that happens to serve good food. "The food is important, but will be simple, made from scratch, bar food, burgers and sandwiches. No $37 ribeyes." But the ethos will be the same. Callahan also hopes to expand the concept to other areas—and the "local" integrity will move with them.
"We hope to be opening more Farmhouses and Farmbars, all with a local focus that becomes part of the neighborhood where they operate, part of the cultural fabric of the community," explains Callahan. "If I put a Farmhouse in Indianapolis, it's just a different set of states and brewers and farmers. But that's OK, we'll figure it out."
One by one he's adding to his roster of restaurants. Rather than rebuilding businesses for clients, this time he's growing his own business with a steady supply of local and sustainable food.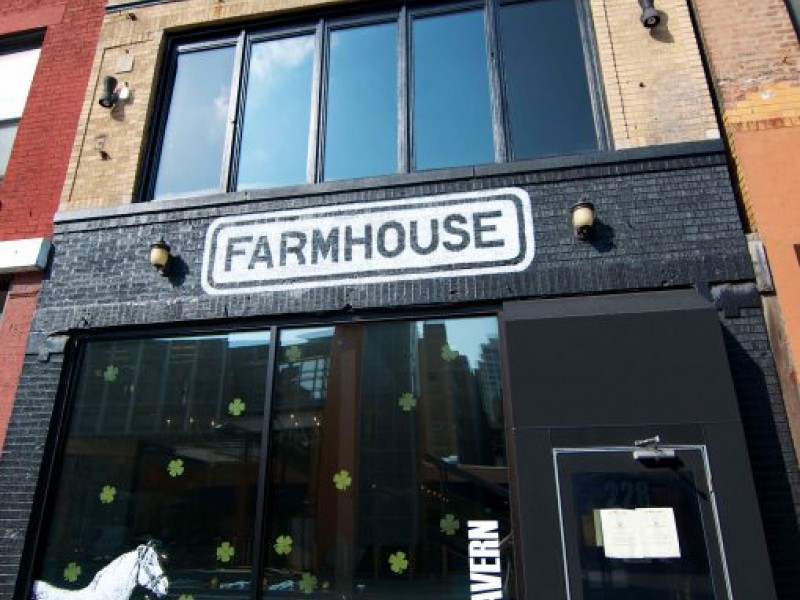 Terra Brockman
A Trip to Old World Italy via the West Loop
Even before I peeked inside the room where hundreds of handmade salumi were fermenting in their warm dark womb, the escaping aromas invaded my reptilian brain. The sense of smell, as Proust and his madeleine amply demonstrated, can unleash a flood of memories, transporting us instantly to another time and place.
That's what happened when West Loop Salumi founder and salumiere Greg Laketek opened the sleek stainless steel door to the fermentation room.
Suddenly I was in Italy, ducking under the mold-covered sausages and hams swaying in the dank semi-darkness of the underground cantina at a farmstead outside Parma. The deep, ripe, funk of all that fermenting meat was identical.
Talking with Greg Laketek, I soon learned why. He had studied under "culatello king" Massimo Spigaroli at his historic estate just outside Parma, which consists of a 14th century castle (now a hotel), a huge biodiverse farm and two restaurants. But the magic of salumi takes place in the musty medieval cellar, and the secret is in that must.
Great salumi happens the same way great cheese and wine happen: skillful artisans working together with nature's own micro-artisans. Every winery, cheese cave and salumi cellar has its resident microbes, part of the terroir that creates the unique flavor profile of food made in that place.
Greg knew that in addition to learning classic salumi recipes and techniques, he needed those invisible helpers. So when he left Italy, he brought home some of the microbes and their slightly more evolved cousin, mold.
My Proustian moment at West Loop Salumi made scientific sense because the salumi hanging in Massimo's cellar in Italy near the Po River and the salumi hanging in Greg's fermentation and drying rooms on Randolph Street near the Chicago River are utilizing the very same bacteria and mold.
They are also using the very best meats, spices, wines and other ingredients. And Greg is making salumi in the time-honored ways, right down to the twine (natural hemp), salt (sea salt from Sicily) and bladders encasing the culatelli, which are imported from Italy.
Culatello is often called the king of salumi, prized for its sweet musky taste and velvety texture. It is also prized because it is rare. While some 10 million prosciutti di Parma are produced each year, there are only about 30,000 culatelli.
Because Greg is the only American making traditional culatelli, and because culatelli age for 14 months, there is a long list of chefs waiting for the meat to mature. The burgeoning demand led Greg and his company to design and build an off-site culatelli curing facility four times the size of his current curing room. It was built to Italian standards, up to the 15-foot ceilings and down to the signage. In Massimo Spigaroli's cellar, signs indicate which culatelli are for Alain Ducasse, for Heston Blumenthal, for Prince Charles, and other luminaries. Soon similar signs will indicate to whom each batch of Greg's slowly curing bespoke culatelli belong. In Greg's relaxed presence, it's easy to forget that the success of West Loop Salumi has come with a great deal of effort and perseverance. Greg worked 12-hour days with Spigaroli for the three months he spent with him in 2011, and then again in 2012. In between, he returned to Chicago to plan and build his company, which took three years from concept to opening.
He found his Randolph Street location while walking around the West Loop. "I just walked by this place one day and saw that red door, and thought, 'This place looks awesome!'"
It was a garage, so Greg and his brother tore out the floors and completely built it out, putting in new piping and the requisite washable floors and walls. The fermentation and drying rooms are insulated to a value of R20, with dual moisture barriers and antimicrobial lining.
Among the biggest hurdles to making traditional salumi, it turned out, are the USDA, FDA and health department regulations. In the U.S., meat and other potentially hazardous foods must be kept under 40° (refrigerated or frozen) or over 140° (cooked). But salumi has always been made at ambient temperatures around 50–60° and dried at slightly higher temperatures. In Italy this is done in buildings open to the air, guaranteeing that the good bacteria and good molds will come in and do their work, developing the flavors of the meat.
All cured meats were born of necessity: the need to preserve meat for months after slaughter. Salting, smoking and air-drying are powerful and effective ways to transform a perishable product into one that can be preserved for months or even years. Although meat has been preserved this way for thousands of years, Greg had to work out a very detailed plan for hazard analysis and critical control points (HACCP) before the USDA would allow him to make salumi the old-fashioned way. He records every step from the moment raw meat is delivered until the final product leaves the premises. In his fermentation and drying rooms, automatic monitors continually record temperature, humidity and airflow. And Greg takes regular swabs to send off for testing to ensure that only good microbes are present. Even now, most of his time is not spent making salumi, but keeping records that allow him to do business as the first, and so far only, USDA-certified high-temperature traditional salumi plant in Illinois.
The "back of the house," where all the meat cutting, grinding, mixing and salumi-making is done, is subject to daily USDA inspections, as well as unannounced "audits." But the small retail space in the front of the house is inspected by the local health department. Although this inspector does not have jurisdiction over the back of the house, one day she came in, Greg says, looked in the back, and asked what was behind the steel doors. With a gleam in his eye, Greg said, "There's raw meat in there, hanging at 60°. And we sell it across the country." He laughs, "It blew her mind!"
Greg came to his time-honored craft by a circuitous route. But there was one guiding star in his winding path from a west suburban childhood, to international business major in college, to starting his own consulting company, to becoming Spigaroli's apprentice. The lodestar was a deep appreciation of real food made by farmers and artisans, which he was lucky enough to experience during his childhood.
"My parents would ship me over to my grandparents in Italy during summer vacation," he said. "When I was 6, 7, 8, they would go to all their friends' farms all around the Marche region. We would go to these farms where they made their own salumi, their own cheese, their own bread, their own liqueur . . . ."
The Italian connection continued when Greg spent time in a small town north of Venice during his college years. But food was pleasure, and business was business. It wasn't until Greg started to burn out with his consulting business that an employee pointed out the obvious: Greg was always cooking for friends and family and even for his employees. Finally that employee said, "Greg, why don't you just get into the food business?"
And so he began taking night classes at Kendall College. It was during an after-class drink with friends that he realized that what Chicago really needed, and what he really wanted to do, was make traditional salumi.
"I woke up one day and said, 'If I'm going to do this, I want to learn how to do it exactly, how they do it in Italy, and do it right, and not mess it up. There's enough bad sausage out there already.'"
So Greg booked a one-way ticket to Italy and started knocking on doors. Everywhere he went, he saw and heard the name Massimo Spigaroli.
"So I showed up on his doorstep and told him why I'm here." Spigaroli showed him around his farm, restaurants and salumi cellars. Then, even though Spigaroli had never taken on an apprentice before, Greg said, "he didn't turn me down."
That was one sign that he was on the right path. Another, it turns out, was yet to be discovered. It wasn't until he was looking for equipment one day that he found out his grandfather had been in the sausage-making business in Chicago. "He died the day I was born, so I never got to meet him," Greg says, "but one day someone looked at my business card and said, 'A Laketak was vice president of this company.' Later, when I found my grandfather's butcher's union card, I knew I was on the right path."
West Loop Salumi now has more than 100 clients across the country, including Alinea chef Grant Achatz and "Iron Chef" Marc Forggione. Product can also be found in Chicago at Eataly at 40 E. Ohio St. and other specialty food stores. For a complete list of locations: westloopsalumi.com or visit the storefront at 111 W. Randolph St.—look for the bright red door.